Are you planning to visit the USA? Millions of visitors, every year, apply for a US visa due to various reasons. The USA is famous for many aspects such as wonderful sceneries, peaks covered with snow, restaurants, beaches, and open skies. In addition, many individuals travel to the USA to enroll in learning programs or attend business meetings on behalf of their company. To get entry into the USA, one must apply for a visa. Getting US visa approval is not quite easy. You have to understand the complete application procedure including the visa interview preparation. In this article, we'll simplify for you the complex and confusing process of the visa application process and give a complete visa guide to travel in the USA.
Types of Visas to Travel in USA
Visitor Visa

Work visa

Student Visa
Visitor Visa
Two types of visas are included in this category to travel in USA:
Business Visa 

Tourist Visa 
Business Visa
Various employees of several companies are directed to travel to the USA to attend business meetings, conferences, or discuss business contracts. This visa is appropriate for those employees that last for a short time to attend business meetings in the US.
Tourist Visa
If you are interested in exploring the USA or want to visit your relatives and friends to spend vacations, then this type of visa is appropriate for you. This visa lasts for six months. This visa also covers applications for attending any musical event, competition, short learning course, or for medical treatment. In the case of medical treatment, it's mandatory to submit a diagnosis report to the interviewer as a proof to get a visa to travel in the USA.
Work Visa
This visa option is ideal for individuals seeking employment opportunities in the United States. It allows for temporary work arrangements, albeit for a limited duration. To secure this visa, applicants must receive a job offer from a U.S. employer willing to sponsor their visa application. Common work visas include H-1B for specialty occupations and L-1 for intracompany transfers. Meeting specific eligibility criteria and following the application process is crucial for a successful visa acquisition.
Student Visa
This visa is suitable for students who have a dream of getting higher education in the USA. It includes F and M-type visas. If you are a student and want to study in any USA educational institute, then you should apply for an F-type visa. If you are planning to get admission to any non-educational and professional institute, apply for an M type of visa.
Visa Application Procedure Guide to Travel in USA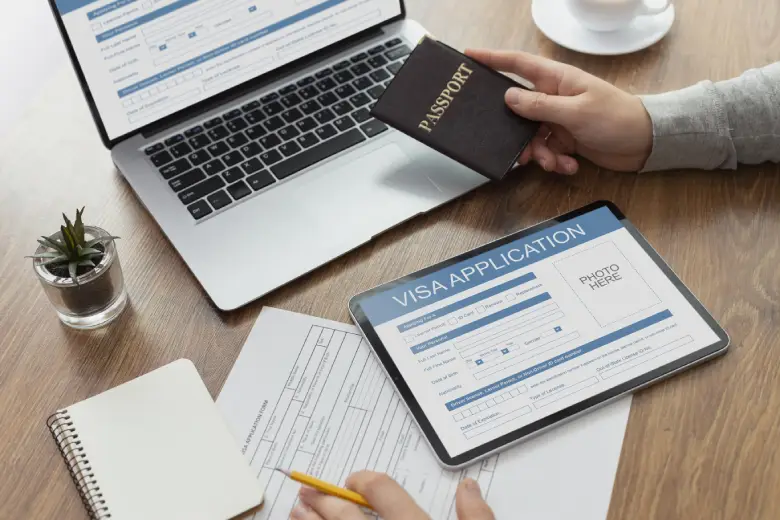 Application form
To initiate the visa application process, begin by downloading and filling out the DS-160 application form. This step is pivotal, necessitating accurate details and a legitimate purpose for your intended travel to the USA. Following the completion of the form, you will be issued a verification code and a confirmation page. You must secure this page as it will be needed for your document package. Take a print of the DS-160 form.
Pay Visa Fee
After completing the visa application, pay the visa fee. You will be given two options; either submit the fee online or pay cash in any recognized bank.The visa fee can be paid after completing the application form.Keep your fee payment receipt in a safe place because it will be required at the time of the interview.
Visa Interview
After filling the application form and paying the fee, schedule an interview which consists of two parts. The first step is about your identification in which you have to give your electronic fingerprints and digital photographs. Next, you'll have a face-to-face interview with a U.S. consultant. They'll ask about you and why you're visiting. Make sure to answer their questions accurately and bring all the needed documents. If anything is missing, your application might not be approved.
Day of Interview 
If you want to approve your application to visit the USA, you should thoroughly prepare yourself for the interview. One should give accurate answers to the interviewer.
    Visa Checklist to Travel in USA
        There are the following documentation required at the time of the interview:
Passport that should not be more than 6 months old

Digital photographs of at least 4 that must be clear and professional (2 x 2 inches)

ID card copy

Printed application form

Copy of appointment letter (interview)

Verification page received after filling out the online form

Fee submission receipt

A bank statement that proves that you can afford this visit

Letter in which you will explain your purpose for travel to the USA

A criminal record to prove that you have not been involved in any type of crime

A transcript in case of student visa

A diagnosis report in case of medical treatment

Letter from your company showing your job in case of business visa
 Tips to Make Your Visa Interview Successful
Appropriate dressing will have a positive impact on the interviewer.

Review your application form.

Do practice the most common question and your purpose of travel.

Organize your documents properly.

Give accurate answers to questions asked during the interview.
Give them surety that you will stay there for an allowed period and return to their country after the date has expired.
Entry in the USA
You can get entry into the USA, after approval of visa application. On arriving in the USA, the immigration officers will verify your documents.
Cause of Rejection to Travel in USA
       Your application for travel in the USA can be rejected if:
The application form is not filled or submitted correctly

Any of the document is missing

Given information is inaccurate

The applicant in its prior trip stayed after the visa expiration date

One has been involved in any crime
Conclusion
We tried to cover all the requirements in a complete visa guide to travel in the USA.Securing a visa for the USA involves careful steps. Understand the type of visa you need, such as for tourism, work, or study. Fill out the DS-160 form accurately, pay the fee, and attend a crucial interview, which varies with age. Dress well, organize your documents, and be ready to explain your purpose. Missing or inaccurate information can lead to rejection. The key is precise preparation, from passport details to financial proof. Follow the process diligently, and success in exploring the USA awaits.